There are only sixteen books that I read in 2019 that I gave five-star ratings too, and they are my books of the year.
In my reading intentions for the year, I had promised to read the remainder of the Discworld books that I hadn't ever read. Whilst I haven't finished them all, I did make progress this year. The Last Hero was the first from that list and, in true Terry Pratchett form, it did not disappoint. Very funny and a tiny parody of life on our world too.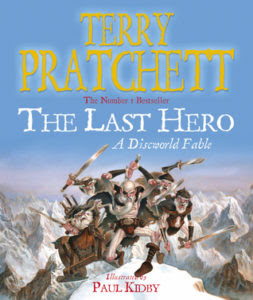 The Wild Remedy was my book of the month back in March 2019. It is a thing of beauty and needs to be read by those who have emerged from the winter and who are still feeling the effects of depression. It is very personal too as Emma recounts points at which she was at her very lowest ebb.
Earth from Space is very much a coffee-table book and the photos in here are as sumptuous as they are amazing.
I have a fascination about lighthouses and Seashaken Houses by Tom Nancollas is a brilliantly written history of these structures around the UK.
Roger Deakin was the founder of the modern revival in nature writing and this book by his son, Rufus Deakin, and the man, Titus Rowlandson, who currently lives in his house is a wonderful personal history of a home.
Robert Macfarlane is a magnificent writer, and his latest book, Underland, continues that trend. Instead of being in the wide open spaces and the mountains, he heads underground to discover the places where people do not often venture.
The link between mental health and the benefits that the natural world can bring has been proved many times now. In Bird Therapy, Joe Harkness tells a personal story of his fightback from a suicide attempt and how being out bird watching helped him in every stage of recovery.
All Together Now is a brilliant state-of-our-nation book, as Mike Carter walks the same journey his father did three decades before and listens to the people along his route.
The hope that having his own plot of land and space for his family to grow would be the inspiration that he needed for his writing, didn't quite work out for Paul Kingsnorth. In Savage Gods he talks about how the writing process has changed him.
Another Discworld book, The Amazing Maurice and His Educated Rodents is one of the children's books in the series. It is still written with his razor-sharp wit and take on the aspects of life that affect us all.
I will admit that Andy Goldsworthy is my favourite artist and I found Enclosure in my local library. Brilliant art as ever.
Until Eland kindly sent me the Jonathan Raban books that they were republishing I had never read any of his books. They were all very good, but he writes about America so very well as you can find in Old Glory and this one, Hunting Mister Heartbreak. Great writer and great book.
Mark Cocker is one of the many modern nature writers who I admire. I actually met him at the Wainwright shortlist announcement and had a good chat, and his latest book, A Claxton Diary, is as well written as all his others.
A writer who is forging his own paths in nature writing is Tom Cox. 21st Century Yokel was brilliant and the sort of sequel, Ring the Hill, maintains that same standard.
Robert Macfarlane is best known for non-fiction, but this collaboration with Stanley Donwood is his first foray into poetry and fiction. Sharp, eerie and devastating. This is Ness.
And my book of the year is Surfacing by Kathleen Jamie. Any of her writing is a treat and this does not disappoint in any way at all.
Paul Cheney
January 2020